THANK YOU!
Dear Festival Followers,

We tried something new and different this September, 2020. It is something that has been tried by other festivals, and other events, as we try to navigate our way through the challenges and unknowns that COVID-19 has brought into our lives. But it is something that we had never tried.

In doing so we had to stretch ourselves, and learn new skills.
But none of that really matters unless you, who have always made this Festival happen, weren't willing to broaden yourselves as well!

You did! And our artists did. And we are grateful to all of you for making this a fun, sometimes frustrating, and ultimately rewarding 2020 Virtual Celebration of Celtic music and culture.

Thank you!

PS – Please check back later today for an enticing event announcement for this weekend.

This Saturday – A Virtual "Live" Event
"KÍLA LIVE"
US & CANADA VIRTUAL TOUR
SPANISH PEAKS INTERNATIONAL CELTIC MUSIC FESTIVAL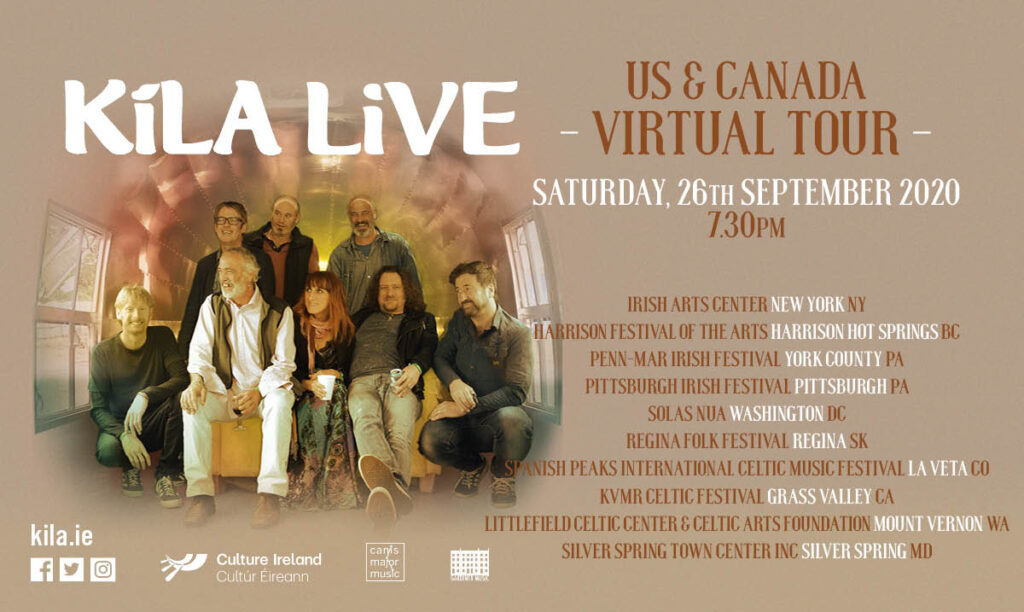 In January 2020, Kíla was one of the highlights at Folk Alliance in New Orleans and are making plans to tour the USA and Canada in 2021 & 2022.

Due to current Covid-19 restrictions, Kíla are bringing their unique live sound to Spanish Peaks International Celtic Music Festival through an exclusive online hour long concert that will be streamed on September 26th at 7.30pm MDT. It will premier on YouTube.

Registration for this event is required. While it is free, a suggested donation of $10 would be appreciated.

Kíla have collaborated with Danielle Devlin of https://canismusic.com to bring these festivals and venues together on September 26th 2020 for a unique KÍLA LIVE online concert.

Formed in Dublin, Ireland in 1988, Kíla's unique and ever evolving sound, while rooted in Irish tradition, is inspired by a myriad of musical influences worldwide. Kíla's 8 members stem from differing musical backgrounds, including Irish traditional, classical, folk and rock.

Kíla have played in over 35 countries and at notable festivals like the Montreux Jazz Festival, Edmonton Folk festival in Canada, WOMAD festivals in New Zealand, Spain and Australia, RWMF in Malaysia, Festival de Ortigueira in Spain, the Sziget Festival Hungary, the Electric Picnic in Ireland, Glastonbury, Cambridge Folk Festival and Boomtown in the UK and many many more.

Online Registration: https://kila.live/spanish-peaks-celtic-festival/

Donate to Kíla: www.paypal.me/kilarecords
And, if you are interested…
All of the artists were very kind to mention our Festival so far. While it's generous of them, this Festival has always been about the artists, you, our followers, and the mixing of the both.

We wanted our artists to come out of this weekend a bit more whole than they were going in. If you virtually tipped them, we thank you. If you still would like to, but are having difficulty figuring out how, please let us know at celticmusicfest@gmail.com. We will be glad to help you to make that happen.

While we had no expenses in the making of this virtual festival, we have high hopes of being live again in 2021. Then, we will have significant expenses. If you wish to contribute it will certainly help fund us next year.

What follows are a three ways of going about that.

1) Go to our Donations page and read about different ways of helping us.
2) Check out our Sponsorship page for unique opportunities to participate.
3) And lastly, please click on the green button below to go directly to a payment option.
Latest News
This Saturday – A Virtual "Live" Event
September 23, 2020
-
"KÍLA LIVE"US & CANADA VIRTUAL TOUR SPANISH PEAKS INTERNATIONAL CELTIC MUSIC FESTIVAL In January 2020, Kíla was one of the highlights at Folk Alliance in New Orleans and are making […]
---
---