Latest News
Thank You for a Wonderful Festival!
October 3, 2023
-
Many thanks to all the people who supported and volunteered to make this Festival possible.  This was truly one of the best gatherings of talent we have seen, all made […]
Ticket Update!
September 19, 2023
-
We would like to announce that tickets for the Lads at the Dog Bar are now out of stock. There are still tickets available for the remaining concerts. Get them […]
Concert Ticket Update!
September 17, 2023
-
Just a quick update: The Gothard Sisters Concert on Sunday afternoon is now SOLD OUT.  From this point forward, any Full Concert Passes will be sold for $100.00 and WILL […]
2023 Featured Performers & Tutors
(Click on photos for more content)

The Spanish Peaks Celtic Music Festival is proud to highlight many of the performers that you can look forward to seeing in 2023. Be sure to follow the links below for more information about our 2023 artists!
The Gothard Sisters join us for the 2023 Festival!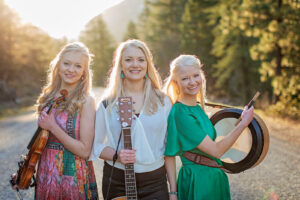 Gothard Sisters
"Crowd favorites, internationally renowned Celtic band and Irish dancing pros. Bringing their voices, violin, guitar, bodhran, mandolin and pennywhistle – you won't want to miss this super sister musical trio." – APPALOOSA MUSIC FESTIVAL (USA)
Sean Gavin to perform and teach for the 2023 Spanish Peaks Celtic Festival and the 2023 Pipe Retreat!
Sean Gavin
Patsy O'Brien returns to the 2023 Festival!
Patsy O'Brien
"Falls in the void between Bob Dylan, Van Morrison, and Jethro Tull's Ian Anderson. An Irish Robbie Robertson." (New Haven Advocate)
The Bow Tides return to the 2023 Festival!
The Bow Tides
New to Spanish Peaks in 2023 – Reverie Road!
Reverie Road
John Doyle will be joining us!
John Doyle
The Byrne Brothers will be back in 2023!
Byrne Brothers
And, if you'd like to play a role in the Festival…
One of the most striking and enduring qualities of this festival is the sense of ownership that all of you feel about it.  Spanish Peaks belongs to the musicians and to you, our participants. I will always recall what one musician (who hadn't been able to perform "across the pond" for a while) told me at a late-night session: "This is my Ireland."  Our collective ownership is one reason why it feels so important to be able to "go live" this year.

Our artists have always recognized that holding an event of this stature, in a Colorado county numbering fewer than 7,000 residents, requires give and take from everyone.  This year is no different.  However, there is an additional challenge for the Festival this year.  We want to meet the bar set in previous years by bringing in the caliber of musicians you have come to expect.  

With that in mind, we are again offering you the opportunity to sponsor one of our artists, or even a concert.  With sponsorship comes an even greater sense of ownership, various perks, and a personal opportunity (if you so choose) to meet the artist you have sponsored.

Below are links to sponsor, as well as other ways to contribute.

1) Check out our Sponsorship page for unique opportunities to participate.  
2) If sponsorship is beyond your means, go to our Donations page to learn about other ways of helping out.
3) And lastly, if you'd like to make a financial donation to the Festival, click on the green button below to go directly to a payment option.