Mixing the Celts was a treat. Cassie and Maggie MacDonald started out the evening with a 'hurricane' of sound. Adam Agee, Jerry O'Sullivan and Mairtian de Cogain filled the theatre with the musical magic of the Celtic Nations.
Then, after a lovely supper, the second concert got underway. Daimh, (pronounced Dive, and meaning kinship) brought a new perspective to Celtic Music. The theatre crowd was rocked by the sounds of pipes, fiddle, guitar and accordion.
Best yet, an unofficial tradition provided the perfect end to the concert.
The Washington School theatre and the Fox Theatre have both housed El Fandango, our folklorico dance group. The dressing room for the dance group has always served as the "Green Room" for concert musicians. In 2009, the band Giveway found the  hats and wore them up on stage.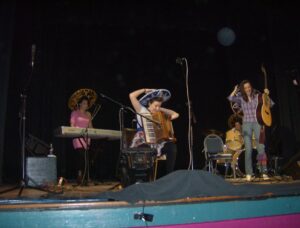 Ever since then, musicians for the Saturday concerts have donned the sombrero's for the finale. Daimh and the Mixing the Celts group did as well.