Since we first began in 2005, a key component of the Spanish Peaks International Celtic Music Festival has been our Schools Outreach Program with its stated goal to present concerts and workshops given by world-class performers to Huerfano County students K-12. We try to reach every child every year, which means doing our best to work within the confines of the competing demands of artists' availability, our own festival schedule of events, and individual school schedules. Solving these logistics issues can sometimes feel like wrestling with a giant jigsaw puzzle. Whew! Still, this year's program is a winner.
Last year was a special first for us. Working with Ben Pollak, John Mall High School's band/music teacher, we brought together The High Kings – a dynamite all-male Irish singing band – and John Mall's choral singers, first for a series of rehearsals and then for a joint performance on stage at our annual 6th Street Hooley concert at Miners Park in Walsenburg.
Leading up to the Hooley, the festival's renowned voice teacher, Tanya Perkins, gave an extra intensive voice class that was followed by a rehearsal with The High Kings where the students and band sang together on three songs the students had learned by heart. The blending of the professional male voices with those of the John Mall choristers was amazing. When the singers trouped on stage and sang with the band, it was to a wildly enthusiastic, cheering audience – a festival highlight by all accounts.
This year Ben's choral singers will have the opportunity of performing at Friday's Hooley with the Screaming Orphans – the four charming Diver sisters from Co. Donegal, Ireland – and we're hoping that students from La Veta also will be able to participate this year.
New this year, Scotland's Old Blind Dogs (OBD) present a workshop for Ben's instrumental students, who will have learned two of the band's recorded tunes in preparation. At the workshop, OBD band members will help students refine their playing so that before the class is over, students and the band can perform the pieces together. What an unforgettable experience for the class (for the band, too!).
---
Here is the full schedule of Schools Outreach Programs for 2017.

– WEDNESDAY, 20 SEPTEMBER –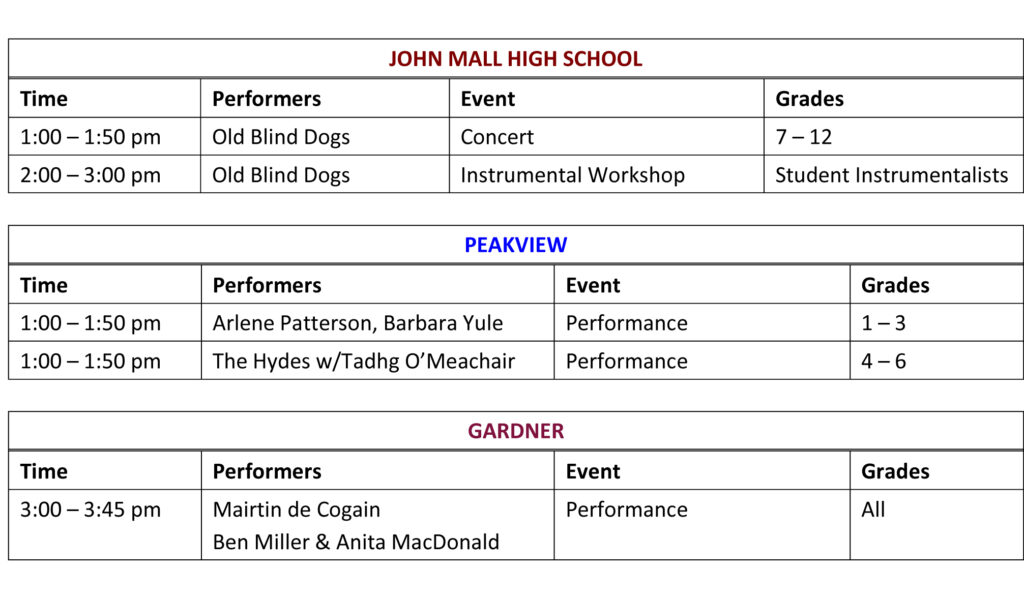 – THURSDAY, 21 SEPTEMBER –