From Scotland: Heron Valley

The Spanish Peaks Celtic Festival draws    Heron Valley to the Cuchara Valley.
Heron Valley are an energetic, young traditional band from Scotland who have serious enthusiasm for the music they play. Their roots lie in Scottish and Irish traditional music, while taking influence from various Folk, Country and Bluegrass styles. Normally comprised of six members, Heron Valley tours the U.S. as a 5-piece line-up, which includes piper/guitarist/whistle player Euan McNab, banjo player/drummer Nick Hamilton, pianist Arlene Mackechnie, guitarist/vocalist Abigail Pryde and bassist Callum Cronin.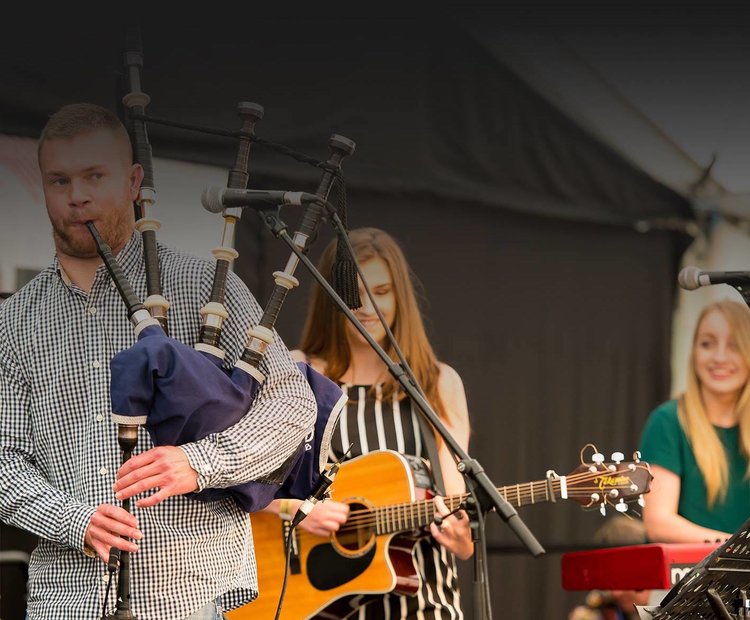 Heron Valley are an extremely friendly group of individuals who love to travel the world, and so the opportunity to play music in the US only adds to their energy on stage!
Since their inception in 2011, Heron Valley have always ensured that they are conveying the highest amount of energy they have to every crowd they play to, ensuring that people who come to see them live have a fantastic experience.
Heron Valley has quickly made a massive impact on the folk scene in Scotland, and 2016 seen them on their tour of 11 Festival stages over the UK., while 2017 seen them on a tour of over 20 festivals around the UK and Europe.  Johnny Walley at Folk Music Radio was 'particularly impressed by the structure of their set, building up the energy incrementally in a series of waves, taking the audience along with them every step of the way.' With the unbelievable reaction they received at these gigs, and the demand for more recordings of their music, Heron Valley released their debut album, Roam, in May 2017. This has been extremely well received by the public, and has been the focus of their gigs during their 2017 Summer tour.
https://www.heronvalleyband.co.uk/