Did you catch the live stream from Brazil that we announced on June 5th.  That was Banda Taverna, from the southern hemisphere, launching their Kickstarter campaign.  If not, you've got a second chance.  More on that later.
So much of what the Spanish Peaks Celtic Music Festival is about is the blending of old and new.  This is true with our artists as they honor the traditions while exploring new musical expressions.  It is true as we bring back, year after year, familiar names and faces that our Festival has come to expect, but every year also introduce you to someone new.  It is also true as we endeavor to bring in musicians honed by many years of performance, and those whom are just now gaining international note.
In that spirit, in 2019 we bring you Banda Taverna, from Belo Horizonte, in the state of Minas Gerais, Brazil.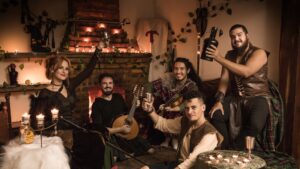 "Born" as a band in 2012, they describe themselves as "Celts accidentally born in Brazil," and add, "We are a Celtic medieval folk band from Brazil. Five people that got together in 2012 to make music that takes the public to a fantasy universe of Kings, faeries and castles. . . And now we are recording our first album! It will be our first great work, gathering all the research and historic inspiration played in traditional medieval and Irish instruments like the Celtic harp, hurdy gurdy, Irish banjo, whistle, bodhran,  accordion, Uillean pipes and many more."
Banda Taverna has never toured in the U.S., nor even outside of Brazil.  They list among their musical influences The Dubliners, Gaelic Storm, The Pogues, The Irish Rovers, Blackmore´s Night, Arany Zoltán, Faun, Gipsy Soul, Omnia, and Rapalje.  While they often present themselves in full medieval Celtic attire, they are fully capable of a more "trad" approach, as can be seen in the following live stream concert mentioned above.  You will find their other live stream video here.
We are especially excited to have Banda Taverna at the Festival this year.  For one, they are entertaining.  Secondly, the Festival is by its nature a great venue for musicians to learn and grow from each other.  We look forward to witnessing some of that chemistry in action.  Lastly, having Banda Taverna affords us another opportunity to experience the far reach of Celtic culture and tradition.  Look for an "Artist Feature" of Banda Taverna very soon on the Festival website.  But in the meantime, here's one more fun listen for you: