Dear Festival goers,
Over the Festival's history we've always had a good lineup of fiddlers.  However, if you play the fiddle 2019 is really the year for you! 
Consider…  Kevin Burke, described by the Village Voice as "Lyric, fluid and precisely as tricky as he needs to be…probably the greatest Irish fiddler living."  Add in Jonny Hardie out of Aberdeenshire, and founding member of the Old Blind Dogs.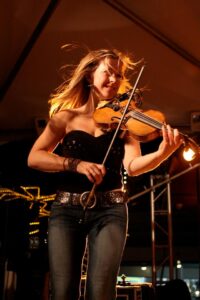 Not satisfied?  Good!
Jessie Burns and  Adam Agee, both with Take Down the Door, will also be on hand.  Jessie, with two decades of professional music behind her, and Adam, well-loved for his work with guitarist Jon Sousa, will both be in teaching capacities.
So too will be newcomer to the Festival, Mary Vanorny, out of St. Paul, and described by Dáithí Sproule, of Altan as having "lovely playing, lovely variations — lots of beautiful thoughts!"


Not only will you see them perform, and also, if you are willing to sacrifice sleep for a treat, at the late-night sessions, but you'll have a chance to learn from these artists in the following workshops:
Friday 9:00 – 10:00 am  Jessie Burns Intermediate Irish Fiddle
Friday 9:00 – 10:00 am  Mary Vanorny Beg/Int Fiddle (Polkas)
Friday 10:15 am – 12:15 pm  Kevin Burke Int/Adv Fiddle
Saturday 9:00 – 10:00 am  Mary Vanorny Beg/Int Fiddle ("More Than Notes")
Saturday 10:15 am – 12:15 pm  Kevin Burke Int/Adv Fiddle
Sunday 10:30 – 11:30 am  Demo/performance with Kevin Burke and Jonny Hardie
In addition we will have a three-part series on session playing, including:
Friday 12:30 pm – 1:30 pm  w/Adam Agee & Jon Sousa  Session Playing Pt I – Ensemble Playing
Saturday 1:45 pm – 3:30 pm  w/Jonny Hardie, Jessie Burns, and Mike Coult  "Session Playing Pt 2 – Melody Instruments (Rhythm instruments will meet elsewhere)
Saturday 10:30 am – 11:30  w/Take Down the Door  Session Playing Pt 3  for both melody and rhythm instruments
For more details, see the schedule