Two years ago Irish guitarist Patsy O'Brien made his first appearance at the Spanish Peaks Celtic Music Festival, and though a knowledgeable few knew what was coming, the rest of us were literally blown away by his performance.  Certainly his skill on the guitar was part of it, but it was also his completely original songwriting, his sense of humor, and his warm and personal rapport with the audience.  Last year a return visit to the Festival was beyond question, and not only did he reward us with more of what he shared in '18, but also held us captive with his own narrative of the St. Patrick story, "The Boy Patrick."
Here we are in mid-winter, Huerfano County, and Patsy is making a special appearance at the La Veta Mercantile.  If you have experience Patsy before you won't want to miss this performance.  If you haven't this is a rare opportunity not to be missed.  Tickets before Feb. 8th are priced at an amazing $15, and on the day of the concert, $18.
Following the promotional poster below find links to more information on Patsy.  See you there!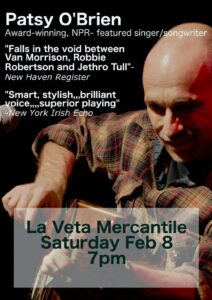 Patsy O'Brien has been called "Ireland's best-kept musical secret" by The Irish Examiner, and is an award winning songwriter with three critically acclaimed CDs to his credit. He has been featured on NPR's All Songs Considered, and is one of Irish music's most respected guitar accompanists. Born in Co. Cork, Patsy began performing his genre-hopping, blues and jazz influenced originals in clubs throughout Ireland. He then took his extraordinary talents to the United States.
From Patsy's official website:
"Patsy is a highly skilled guitarist , songwriter and composer across multiple genres, working with African percussion, Celtic/Irish traditions as well as working in the jazz and blues genres. The CT chapter of the American Folk Alliance awarded him Best Songwriter 2003 for his song "Sacco and Vanzetti (Rise and Unite"). He has written songs, music and libretto for various theater productions. His solo albums, ranging from contemporary singer/songwriter to the Celtic/World influences of "Irish Guitar" have been enthusiastically welcomed by critics and audiences alike."
Reviews:
Patsy's guitar playing moves from driving rhythm to delicate and melodic finger picking, drawing an astonishing range of emotion from his instrument. "Like a good wine, singer/songwriter Patsy O'Brien has let his musicianship flourish…. throaty vocals, languid guitar." The Irish Times
"Patsy O'Brien's songs are sometimes humorous, sometimes poignant, but always delivered with a strong sense of style and energy." FREETIME NY