After first appearing at the 2018 Festival, Patsy O'Brien has become a Spanish Peaks staple, much in the way Ed Miller is.  It is likely because Patsy's talents are so unique, truly inhabiting a niche of his own.  The NY Irish Echo is quoted (on his website) as saying that Patsy "'Falls in the void between Van Morrison, Robbie Robertson and Jethro Tull."  I might add Bob Dylan's name to that list.  While Patsy is clearly an outstanding guitarist and singer, it is more likely Patsy's ability to tell a story, and to put a creative twist onto a traditional song, that makes him such a favorite.  One such example would be his rendition of Irish folk song, "The Star of the County Down."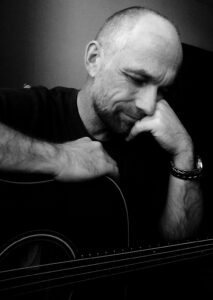 This year Patsy once again joins Ed Miller and Rich Brotherton in Cuchara, starting the Festival off with "Lads at the Dog Bar," Thursday, September 16.  He follows that up with his engaging presentation, "The Boy Patrick," a workshop in "Irish Guitar," for all levels, a Friday night performance at the La Veta Mercantile, and wrapping it up with a demo with Eric Thorin, "Jazz Infused Celtic."  In addition, Patsy will be the featured artist for our pre-festival school programs.
You can follow Patsy on his Facebook page, and check out lots of video content.
We will be publishing the official schedule, and the opportunity to purchase tickets, very shortly.  Please watch for another email announcement as soon as they are up on the website.