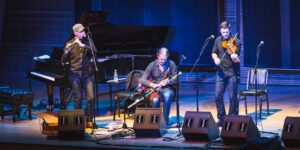 Back in 2018 the Spanish Peaks Celtic Music Festival was thrilled to have two fabulous musicians attend: flute and whistle player, Kevin Crawford and fiddler Collin Farrell.  Both play with Lúnasa, the band that the New York Times described as "…the hottest Irish acoustic group on the planet."  In 2019 Kevin Crawford returned, this time bringing with him the gifted Armagh uilleann pipe and low whistle player, Cillian Vallely, also with Lúnasa.  This year we feel very fortunate to bring all three together again.
There are numerous reasons why you'll want to hear them this year.  First, they are master performers who will take you to the edge, and then a bit further.  Second, they really keep the late-night open sessions playing at the highest level.  Third, they will be leading a two-part session playing workshops for all players at the intermediate and above levels, and lastly, they will all be leading teaching and demonstration workshops.
We will be announcing more artists soon, so be sure to watch your email for updates!