La Veta will be active with live Celtic music from now through the end of September, when we will have the Spanish Peaks International Celtic Festival!
Next Up: Thursday 8/25 – 7pm at the La Veta Mercantile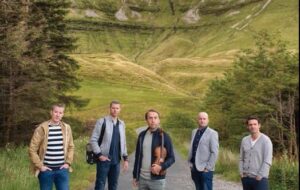 A traditional band with a truly worldwide reach, Téada has appeared as a frequent headliner at major music festivals throughout the US, Canada, Mexico, Europe, Africa, Russia, the Middle East and Australia. Highlights include a 30,000-capacity stadium concert in Brittany, along with performances at Penang World Music Festival in Malaysia, Edmonton Folk Festival in Canada, Harare International Festival of the Arts in Zimbabwe, and Rainforest World Music Festival in Borneo.
In 2014, the band performed to 40,000 people during an extensive 7-week tour of Japan / Taiwan, and continue to have a strong touring presence in the United States, where Téada has toured actively since 2001.
May 2022 brings the release of the band's new album on the Gael Linn label, featuring the brilliant vocals of Begley along with the band's customary re-energising of rare tunes from the tradition.
"The band seems to revel in the speed and fury of Irish reels; the swing of barn dances, hornpipes, and jigs; and the old-world earnestness of Irish pub songs. It takes people of uncommon taste to pull off this kind of backward glance toward late-20th-Century Irish trad, but Téada is full of master musicians with a flair for finding the dramatic in the humblest of tunes." -Devon Leger, Folk Alley